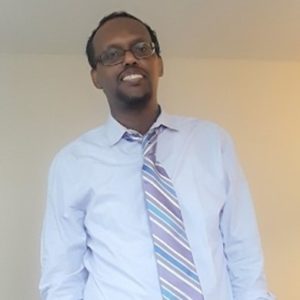 Abdi Warfa
awarfa@umn.edu
University of Minnesota
Topics: Student engagement, classroom discourse, student-teacher interactions, educational methods in DBER.
Availability: Winter/ Spring 2021, Summer 2021, Fall 2021
Bio
Abdi Warfa is an assistant professor of biology teaching and learning at the University of Minnesota. His research group conducts interdisciplinary research that blends aspects of biology, educational theory, cognitive science, and educational research methodologies to improve the teaching and learning of biological sciences at the undergraduate level. The group particularly examines the nature of student-teacher interactions in undergraduate STEM classrooms through behavioral analysis of classroom conduct. In his teaching, Abdi emphasizes the use of active learning techniques to enhance student learning of biological concepts and has examined the effectiveness of cooperative learning methods for teaching undergraduate science. He has been active member of the Process-Oriented Guided-Inquiry Learning (POGIL) community – a collection of scientist educators who advocate for the use of pedagogies that emphasize developing science process skills in addition to content mastery through carefully designed curricula materials. Further information of his research and teaching can be found at: https://cbs.umn.edu/warfa-research-group.
Relevant Published Work
Kranzfelder P, Bankers-Fulbright J, García-Ojeda ME, Melloy M, Mohammed S, & Warfa A. (2020). Undergraduate Biology Instructors Still Use Mostly Teacher-Centered Discourse Even When Teaching with Active Learning Strategies. BioScience, bia077, https://doi.org/10.1093/biosci/biaa077
Kranzfelder P, Lo AT, Melloy MP, Walker LE, & Warfa A. (2019). Instructional practices in reformed undergraduate STEM learning environments: a study of instructor and student behaviors in biology courses. International Journal of Science Education 41(14), 1944-1961.
Kranzfelder P, Bankers-Fulbright J, García-Ojeda ME, Melloy M, Mohammed S, & Warfa A. (2019). The Classroom Discourse Observation Protocol (CDOP): A quantitative method for characterizing teacher discourse moves in undergraduate STEM learning environments. PLoS ONE 14(7): e0219019. https://doi.org/10.1371/journal.pone.0219019.
Warfa A, Nyachwaya J, & Roehrig G. (2018). The influences of group dialog on individual student understanding of science concepts. International Journal of STEM Education 5(1), 46.
Walker L & Warfa A. (2017). Process oriented guided inquiry learning (POGIL®) marginally effects student achievement measures but substantially increases the odds of passing a course. PLoS One 12(10), e0186203. https://doi.org/10.1371/journal.pone.0186203